Many Massachusetts marchers trekked to the capital on our 2-day stay itinerary, while others came blazing in Friday morning to march and head home that night.
This March for Life was historic in many ways. The momentum and power of the crowd held a peace and passion like no year before.The President of the United States even attended the event for the first time in its 47 year history.
We also had members drop everything to come last minute. If you can help some of these young people, please donate to our March for Life fund here. 
But check out highlights below!
Our Massachusetts Pre-March Meet Up Thursday night!
These are a few of the attendees. After reviewing action plans for permanently halting the anti-woman, abortion-promoting bill, the "ROE" Act before the committee's decision deadline on February 5th, the team headed to the longtime pro-life pub, The Dubliner.
(Make your pro-life voice heard and join the March for Life momentum by looking up your legislator here and jumpstarting our No-to-Roe Callbanks!)
Friday morning, our MCFL marchers met up with fellow members from other regions, and some who came down solo after checking our social media posts.
Let's bring this sign -- and its writer's creativity -- back to the Bay State!
Good grief! is right.
These sisters made the message that life empowers so "pro-life strong" -- they and drums must have rattled the clouds!
MCFL President Myrna Maloney Flynn spoke to Abby Johnson and then met with the president of the National March for Life, Jeanne Mancini, after an inspiring talk at the Annual Rose Dinner.
"Here's a role model for our daughters," Myrna commented afterwards. 
A peaceful, but passionate presence witnessing in front of the D.C. Planned Parenthood with Dr. Michael New. Hundreds gathered on Thursday morning -- another record breaker. You can see C.J. above Googling the nearest pregnancy resource center for a woman, and our Boston travel captain for the members who came down Wednesday, Steven, in our pro-life strong scarf!
Proud to be sporting these scarves. And this sign.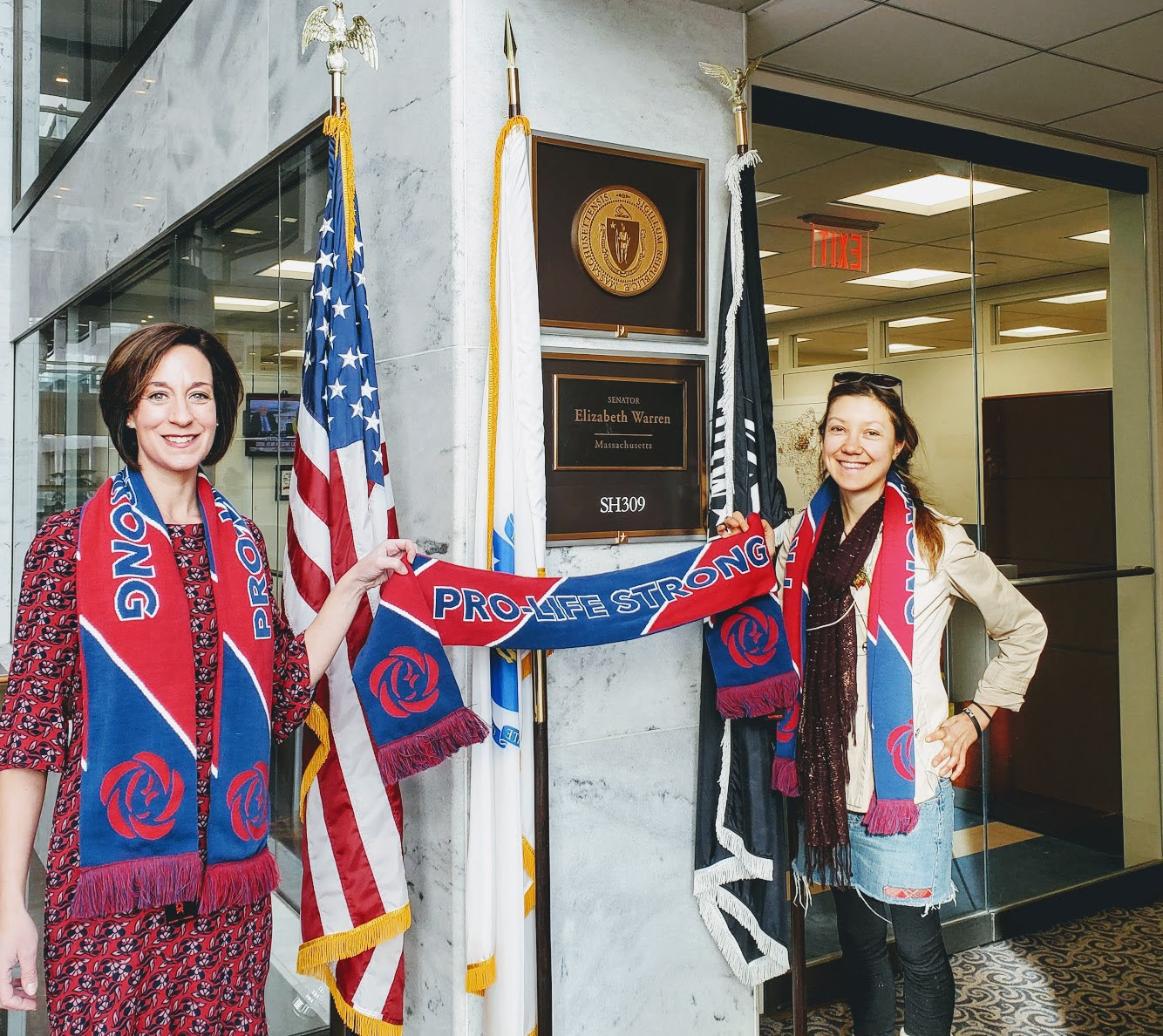 We also dropped by Sen. Elizabeth Warren's office. Her staff were very cordial, but wouldn't accept the gift of this scarf to replace her "Planned Parenthood" pink.
More than quarter million strong--pro-life strong--in Washington D.C. 
We know you would have been here if you could have been.
Thank you for supporting the MCFL Pro-Life Strong trip to the 47th Annual March for Life.
Get ready to pick up with us when our team gets back!
You can support the upcoming action with a gift to our work here.
Check if your town or region has a chapter here.
And join us for the MCFL Convention in March!
LOCATION TO BE ANNOUNCED NEXT WEEK!
Do you like this post?
---